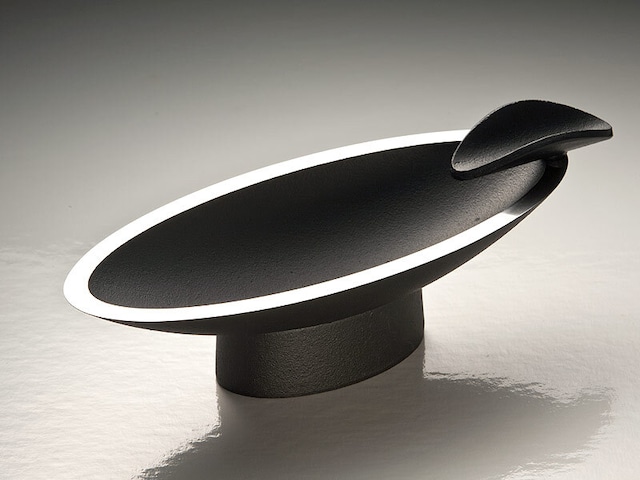 OH!VAL CIGAR ASHTRAY (Nanbu-Tekki Ironware)/オーバル南部鉄器製シガートレイ(葉巻用灰皿・トレー)
SOLD OUT
南部鉄器製のシガー用灰皿。
楕円(オーバル)をモチーフに3次曲面の美しさと優しさを表現。さらに南部鉄器の持つ渋い「艶消しの黒」と、上面部の研ぎ出しにより生まれた「シルバーの輝き」のコントラストが特徴です。
各パーツ(ベース、シガーレスト)はマグネットで簡単に脱着可能で、本体のみを小物入れなどのトレイとしても使用可能です。
重厚感、存在感のあるオブジェとして使う程に味の出る逸品に仕上がりました。
こちらは贈答用にも最適な、特製の桐箱に入れてお送りいたします。

"OH!VAL" is a cigar ashtray made by the "Nanbu-Tekki Ironware".
To express the beauty of the surface, the gentleness in the oval motif.
And tasteful "black matte" with the Nanbu-Tekki, contrast of "sparkle silver" which was polished top surface is characterized.
Each parts can be with set in a favorite position. In addition, you can use it as a tray when take off the cigar-rest.
This product is contained in the original paulownia box for gifts.

- - - - - - - - - -

製品仕様:
【内容物】トレイ本体・ベース・シガーレスト(日本製/南部鉄器製)、取扱説明書、特製桐箱
【サイズ】長さ18cm(※シガーレスト取付時、最大20cm)×幅8cm×高さ3cm(※ベース&シガーレスト取付時、最大6.5cm)
【本体重量】約700g

Details:
[package content] Cigar ashtray body and Base and Cigar rest(Nanbu-tekki Ironware), instruction manual. storage box(made of paulownia wood)
[size and weight] length:18cm(with cigar rest:20cm), width:8cm, height:3cm(with base and cigar rest:6.5cm), weight: about 700g.
Add to Like via app
Shipping method / fee

Payment method
¥44,000 tax included
SOLD OUT