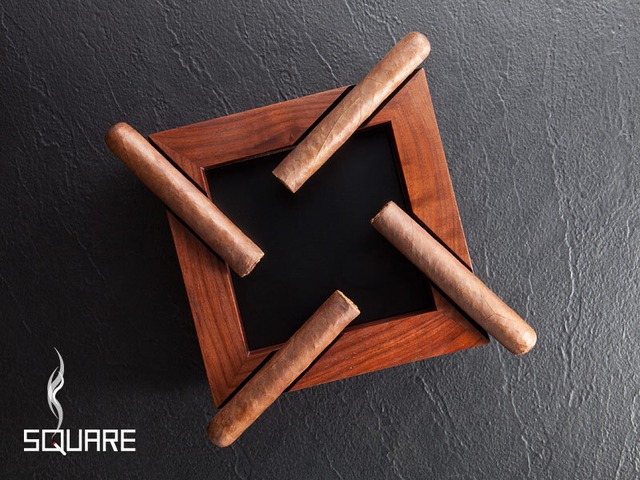 Rotational Walnut Cigar Ashtray "SQUARE" / 回転式ウォルナット製シガートレイ「スクエア」(葉巻用灰皿)
¥42,350tax included
¥60,500 30%OFF
the last one
「スクエア」は自分だけの時間、或は仲間達との語らいのひとときにゆったりと楽しく使える灰皿です。
ウォルナットとシガーは同じ植物仲間であり、木の温もりとシガーはとても相性がいいです。
お互いのシガーが邪魔しないように、4本のシガーが58度の角度で置けます。本体が回転するのは遊び心とちょっとした便利さがあります。
ボディ底のアルミ板がセットされ、本体上部に難燃性塗料が塗布されていますので少々の熱には強いです。末永くご使用頂ければ幸いです。

"Square" is an ashtray that you can use relaxedly and pleasantly for your own time, or for a moment of talking with friends.
Walnut and cigar are the same plant companion, wood's warmth and cigar are very compatible.
Four cigars can be placed at an angle of 58° so that each other's cigar will not disturb.
There is playfulness and a little convenience for the body to rotate.
Aluminum plate is set on the bottom of the body, flame retardant paint is applied to the top of main body, so it is strong for a little heat.
I am pleased if you can use it for a long time.

- - - - - - - - - -

製品仕様:
【内容物】トレイ本体(ウォルナット製/回転台、アルミ製プレート付)、取扱説明書
【サイズ、重量】幅18cm×奥行き18cm×高さ5cm、約600g
【機能】回転機能、灰受け部にアルミ製プレート配置(取り外してお手入れ可能)、本体上部に難燃性塗料を塗布。

Details:
[package content] cigar ashtray(made by walnut, with rotary table and aluminum plate), instruction manual.
[size and weight] width: 18cm, depth: 18cm, height: 5cm, weight: about 600g.
[function] rotating function, aluminum plate arrangement on ash receiving part (removable), flame retardant paint applied to top of main body, MADE IN JAPAN.
Add to Like via app
Shipping method / fee

Payment method
¥42,350tax included
¥60,500